Gluten Free Blueberry Muffins
These muffins are a delicious way to celebrate summer – moist, crunchy sugar top and sweet blueberries. You can also make this recipe with regular wheat flour.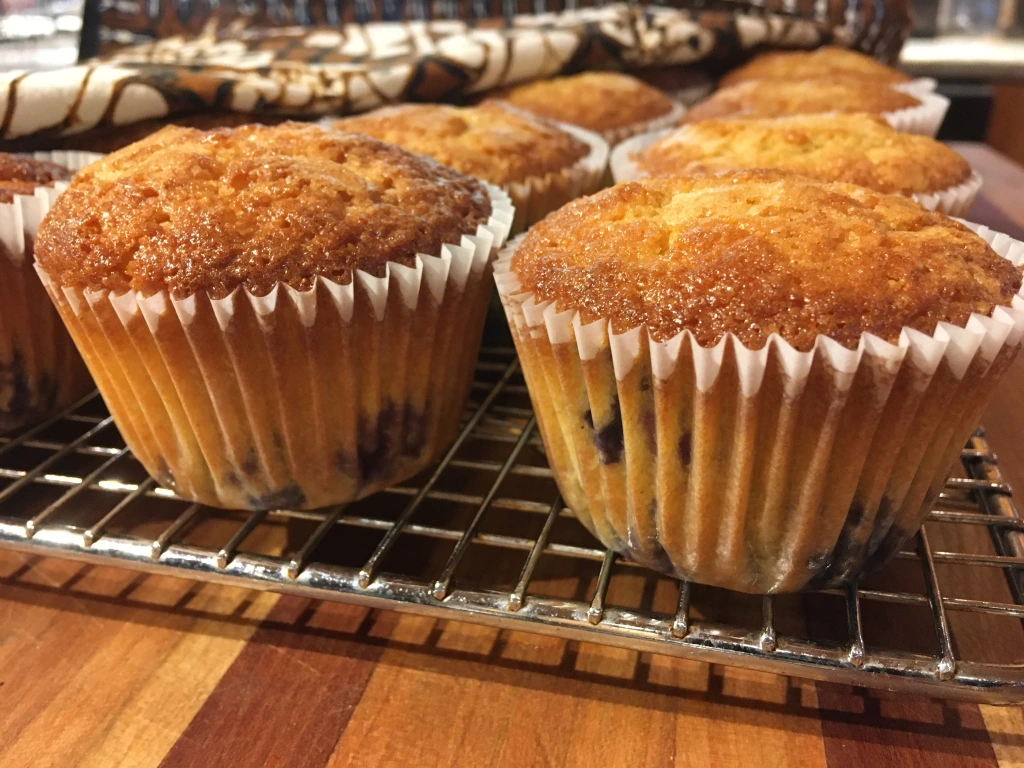 Makes 12 muffins
Ingredients:
2 cups gluten-free flour (best to use a 1-to-1 blend)
2 teaspoons baking powder
1 teaspoon salt
½ teaspoon ground cinnamon
¼ ground nutmeg
½ cup (1 stick) salted butter, softened
1 cup and 4 tablespoons granulated sugar, divided
2 large eggs, room temperature
2 teaspoons vanilla extract
¼ teaspoon almond extract
½ cup buttermilk
1 heaping cup blueberries
Directions:
1. Preheat the oven to 425F; line muffin pan with paper baking liners and set aside.
2. In a medium bowl, whisk together the flour, baking powder, salt, cinnamon, and nutmeg; set aside. In another bowl, toss the washed berries with 1 tablespoon of flour.
3. In the bowl of an electric mixer, beat the butter for 1 minute. Then, add 1 cup of sugar and cream together for roughly 1-2 minutes or until the mixture is light and fluffy. Stop and scrape down the sides. With the mixer on the stir setting, add the eggs one at a time and waiting until each is mixed in well before adding the next. Add the vanilla and almond extract. Add half of the prepared flour mixture, followed by all the buttermilk, and then finally the remaining flour until it is well blended, but make sure you don't overmix. Gluten free flour can benefit from a short rest before baking, so if there is time, let the batter rest for 15-20 min. Fold the floured berries into the batter until *just combined* Overmixing will result is a blue/green muffin once they're baked.
4. Divide the batter into the prepared muffin pan. Sprinkle the muffins with the remaining 4 tablespoons of sugar. Place the muffin pan in the oven and immediately drop the oven temperature to 375ºF. Bake the muffins for 20-25 minutes or until the muffins are cooked through. Cool for 10 minutes in the pan then transfer to a wire rack to cool completely.
Recipe from: Littlespicejar.com