Garlic-Rosemary Smashed Potatoes
Smashed potatoes are a fun cross between a boiled, baked and fried potato! We thought using our Purple Viking potatoes (purple skin and white flesh) created a beautiful contrast of colors – and of course delicious flavors!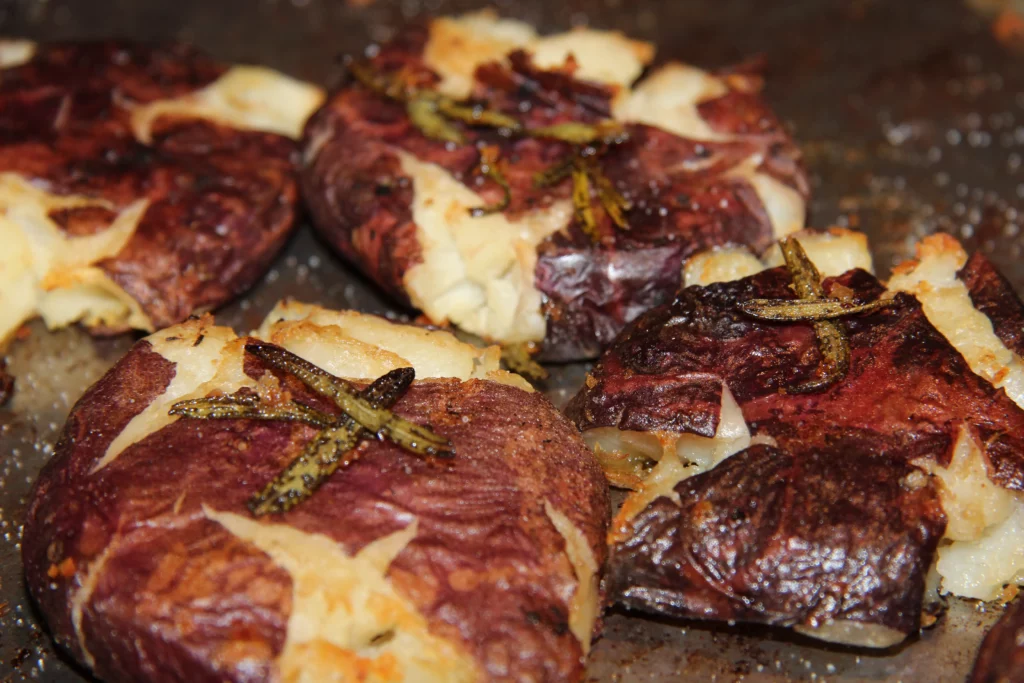 Ingredients
1 pound baby potatoes, whole
2 tablespoons extra-virgin olive oil, divided
3 cloves garlic, minced
1 teaspoon chopped fresh rosemary
1/2 teaspoon salt
1/4 teaspoon ground pepper
Preparation
Preheat oven to 425°F. Place a large rimmed baking sheet in the oven to preheat.
Bring potatoes to a boil in large pot. Cover and cook until just tender, 8-10 minutes.
Meanwhile, combine 1 1/2 tablespoons oil, garlic, rosemary, salt and pepper in a small bowl.
Brush the hot baking sheet with the remaining 1/2 tablespoon oil. Place the steamed potatoes on the pan, skin-side up, and smash with the bottom of a jar or smooth side of a meat mallet. Drizzle with the garlic oil. Roast until browned on the bottom, about 15 minutes.
From: EatingWell.com